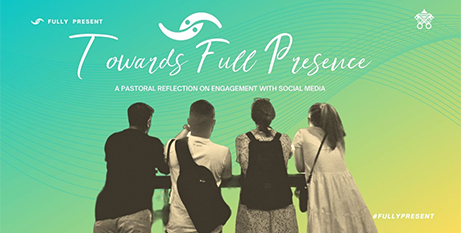 Attention #CatholicTwitter and keyboard warriors: The Vatican has released recommendations for how better to "love your neighbour" on social media. Source: The Tablet.
The 20-page text, Towards Full Presence: A Pastoral Reflection on Engagement with Social Media, published yesterday addresses the challenges Christians face in using social media.
Topics covered in the pastoral reflection include information overload, constant scrolling, not giving others one's full attention, being an "influencer", witnessing to Christ, "digital detox", the need for silence, intentional listening and building community in a fragmented world.
"One significant cognitive challenge of digital culture is the loss of our ability to think deeply and purposefully," it warns. "We scan the surface and remain in the shallows, instead of deeply pondering realities."
The Vatican Dicastery for Communication published the document, which was signed by its lay prefect Paolo Ruffini and its Argentine secretary Monsignor Lucio A. Ruiz, who cite many of Pope Francis' speeches from past World Communications Days.
The text is "not meant to be precise 'guidelines' for pastoral ministry", the dicastery clarified, but seeks to promote a common reflection on how to foster meaningful and caring relationships on social media.
The Vatican's pastoral reflection posits that social media's constant demand for people's attention "is similar to the process through which any temptation enters into the human heart and draws our attention away from the only word that is really meaningful and life-giving, the Word of God."
"Different websites, applications, and platforms are programmed to prey on our human desire for acknowledgment and they are constantly fighting for people's attention. Attention itself has become the most valuable asset and commodity," it says.
FULL STORY
Vatican releases guidelines on how to 'love your neighbour' on social media (By Courtney Mares, CNA via The Tablet)
RELATED COVERAGE
Vatican releases pastoral reflection on Christian engagement with social media (Vatican News)