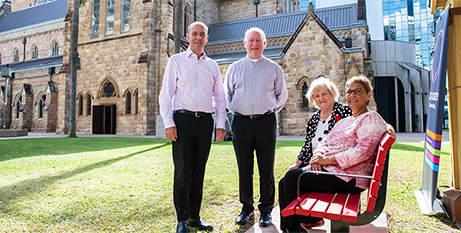 Brisbane's St Stephen's Cathedral precinct is home to the city's first Red Bench – a place to sit and have a conversation about domestic violence. Source: The Catholic Leader.
Centacare, which supports thousands of women and children experiencing domestic and family violence, unveiled the bench as part of domestic and family violence prevention month.
Centacare general manager Anick de Réland led the unveiling of the Red Bench, which included a blessing by cathedral dean Fr Anthony Mellor.
"To me, the Red Bench symbolises a safe space where a conversation can be had about domestic violence," Ms de Réland said.
"It could be two relatives, friends, colleagues or even two strangers sitting side by side and starting a conversation, prompted by the inscription on the plaque, about domestic violence – how it presents, the impact on individuals and families and what each of us can do to help address the issue.
"The Red Bench, through its vibrant colour, cannot be overlooked, just as domestic violence cannot and should not be overlooked."
Red Rose Foundation chief executive officer Betty Taylor launched the Red Bench project in 2019 to build a permanent reminder that domestic violence occurs within all communities.
There are now 400 red benches in place across Australia, each fitted with a plaque reading, "Domestic violence: Let's change the ending".
Speaking at the blessing, Ms Taylor said the foundation was concerned by the high number of domestic violence-related deaths that occur each year, both through homicide and suicide.
"The presence of a Red Bench in the CBD aims to raise awareness and provide an opportunity for this important issue to remain visible."
FULL STORY
Cathedral precinct gets Brisbane CBD's first Red Bench to open conversations on domestic violence (The Catholic Leader)