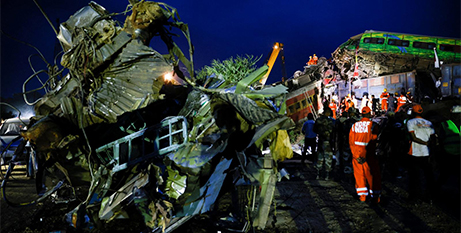 Pope Francis prayed yesterday for the victims of a train crash in India that killed at least 275 people on Saturday. Source: National Catholic Register.
"I am close to the injured and their families. May our Heavenly Father welcome the souls of the deceased into his kingdom," he said in his Angelus address.
Hundreds of people were injured in the crash in Odisha state, India's worst rail crash in over two decades, according to Reuters.
The crash was caused by an error in a passenger train's electronic signalling system, which led it to change tracks and hit another train, which derailed. The two trains were carrying 2296 people in total when they collided.
The Pope also sent a condolence telegram to India's apostolic nuncio, Archbishop Leopoldo Girelli, the day after the accident.
The telegram. sent on the Pope's behalf by Vatican Secretary of State Cardinal Pietro Parolin, said: "His Holiness Pope Francis was deeply saddened to learn of the immense loss of life caused by the train crash in Odisha State, and he assures all affected by this tragedy of his spiritual closeness.
"Entrusting the souls of the deceased to the loving mercy of the Almighty, he sends heartfelt condolences to those who mourn their loss. His Holiness likewise offers prayers for the many injured and for the efforts of the emergency service personnel, and he invokes upon them the divine gifts of courage and consolation."
FULL STORY
Pope Francis Prays for Victims of Train Crash in India That Killed 275 People (By Courtney Mares, CNA via National Catholic Register)