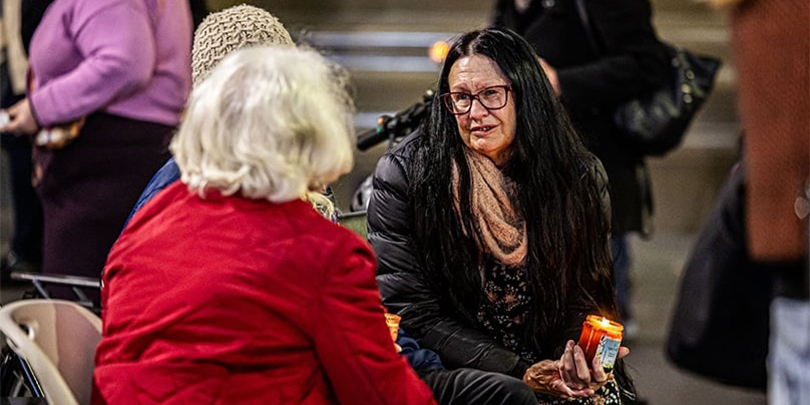 As the sun set for the longest night of 2023 on June 21, an annual ceremony was held to commemorate the lives of homeless men and women who died in the previous year. Source: The Catholic Weekly.
In Martin Place, in the shadows of the Reserve Bank and the "big four" banks, the human cost of Australia's housing crisis was counted.
Sydney Emeritus Bishop Terry Brady was joined by Dame of the Order of St Sylvester, Patricia Thomas, to read aloud the names of several dozen homeless persons who were known to have passed away.
Bishop Brady at one point paused and noted that the list was incomplete, as he knew personally the names of individuals who hadn't been included.
The memorial service was started by the End Street Sleeping Collaboration in conjunction with the PAYCE Foundation and Sydney Archdiocese's Justice and Peace Office, with the support of late Catholic Cemeteries CEO Peter O'Meara.
It is an opportunity for the community to remember and honour lives lost and to grieve for all individuals who have died on the streets, or in shelters, over the past year.
Dominic Sullivan from the PAYCE Foundation said it was a "unique opportunity to remember and celebrate the lives of those that died without a home, and often without a commemoration".
Fr Peter Smith from the Justice and Peace Office reminded those in attendance that "we need to hold these people in our hearts just as our loving God has called each of us by name and holds the departed homeless in the palm of his hand."
FULL STORY
On darkest night, Sydney remembers homeless who have died (By Michael Walker, The Catholic Weekly)