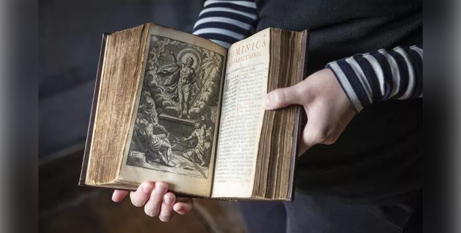 A historic prayer book belonging to the priest who protected King Charles II and helped save his life has gone on public display at one of England's famous stately homes. Source: National Catholic Register.
Fr John Huddleston's personal missal, which is almost 400 years old, is now on display at Moseley Old Hall, Wolverhampton, which is situated in the West Midlands region of the country.
Following the Battle of Worcester in 1651, in which the Parliamentarians under Oliver Cromwell defeated the Royalists, the defeated monarch sought refuge at the home of the Catholic Whitgreave Family, where the Benedictine priest also resided, dressed as a servant.
Fr Huddlestone agreed to hide Charles II in his first-floor room, which featured a trap door beneath the floor of the cupboard, where a priest hole was accessible. Charles II was able to hide there when soldiers turned up at the house looking for him.
The missal was purchased by the conservation charity National Trust at auction due to a substantial donation from a volunteer and the support of the organisation Friends of the National Libraries.
When the monarchy was restored in 1660, Charles made Fr Huddlestone chaplain to his mother, Queen Henrietta Maria, and to his wife, Catherine of Braganza.
It is believed that the Missale Romanum, published in Paris in 1623, might have been instrumental in bringing about the king's deathbed conversion to Catholicism.
On his deathbed at Whitehall Palace in 1685, Charles asked for Fr Huddlestone, who heard the king's confession, gave him Holy Communion and finally received him into the Catholic Church.
FULL STORY
Historic Prayer Book of Priest Who Hid King Charles II Goes on Display (By Madeleine Teahan, CNA via National Catholic Register)