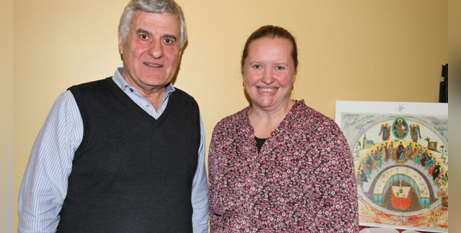 The Adelaide Archdiocese's new vision and mission statements were launched at the first of three sessions on the upcoming Synod in Rome. Source: The Southern Cross.
Attended by about 100 people, with more participants joining online, the gathering last month explored one of the themes of the Synod, "communion".
Diocesan Pastoral Council chair Monica Conway unveiled the vision and mission statements and explained their relationship to communion.
"Inspired by the love and unity of the Trinity we are called to be in communion with each other," she said.
"Communion requires communication and mutual understanding, grounded in our faith tradition.
"The process of developing the vision and mission statements for our Archdiocese is a part of enhancing and expressing our mutual understanding about what we aspire to be and what we will do to be a Christ-centred, spirit-led, mission-oriented community, accompanying one another, together on the way."
The statements were developed by the Interim Diocesan Pastoral Council in 2022 out of the recommendations of the 2021 Diocesan Assembly.
In a letter to the faithful, Archbishop Patrick O'Regan said it was the council's hope that every parish, community, school, and Catholic agency would take up these statements and apply them to their own contexts.
The session at The Monastery featured addresses by the archdiocese's director of pastoral life and mission, Sarah Moffatt, Adelaide priest and theologian Fr James McEvoy and Archbishop O'Regan.
The next two sessions will be held tomorrow and September 12
For more information email [email protected] or call 8210 8110.
FULL STORY
New vision launched (By Jenny Brinkworth, The Southern Cross)