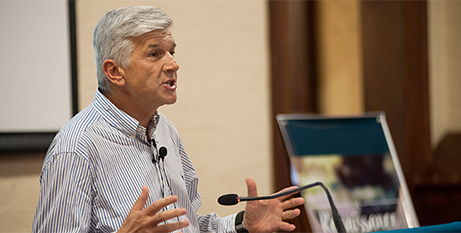 Preaching is the primary role of the Church, according to Xavier School of Preaching presenter and menALIVE founder Robert Falzon. Source: The Catholic Leader.
"While some rich, written resources on the theology of preaching are available, it is clearly an area of expertise that cannot be learnt solely through participation in standard units of study," he said.
"Instead, it requires further research and innovative thinking to create a learning resource that participants from the archdiocese, and across the country, can engage with and can be resourced accordingly."
That is the thinking behind the Xavier School of Preaching, which is only in its second year.
Canberra Goulburn Archdiocese hosted the first school in 2022 and Brisbane Archdiocese will host it this year at Holy Spirit Seminary, Banyo, from August 24-26.
The school is for anyone, men and women, who preach the Gospel in the life of the Church, including, parish lay ministers, priests, deacons and seminarians, teachers and school leaders, diocesan and catholic education leaders, members of ecclesial movements, catechists, and youth ministers
The Xavier School of Preaching seeks to enable participants to speak and preach the Gospel confidently, connect their life of faith and prayer to the ministry of preaching and teaching, as well as acquire appropriate theological knowledge on the background, theological and ecclesial dimensions of the Word.
Details: https://evangelisationbrisbane.org.au/schoolofpreaching
FULL STORY
School of preaching heading to Brisbane to encourage Catholics in proclaiming the Gospel (By Joe Higgins, The Catholic Leader)