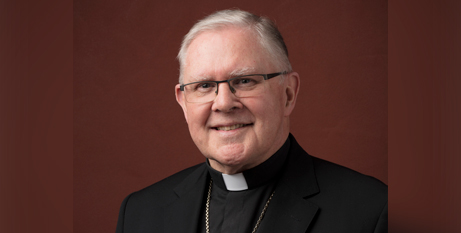 Married Indigenous men should be allowed to be ordained as Catholic priests and the centuries-old rule of compulsory celibacy will "very likely" ultimately be changed by the Vatican, says Brisbane Archbishop Mark Coleridge. Source: The Australian. 
Archbishop Coleridge has warned that the Church will need to "look quite different" to flourish, ahead of the October Synod on Synodality.
He has proposed an exemption for Indigenous priests and said it was necessary when there was "no way you're going to recruit a celibate clergy in those cultures".
West Australian Labor senator Patrick Dodson, a foundational figure in the Aboriginal reconciliation movement, is the only Indigenous man ever to be admitted to the Catholic priesthood.
"And Pat Dodson ended up leaving after a relatively short time," Archbishop Coleridge said.
"I think it's fairly bleak with regard to the Church generally now. So one of the things I have just floated is that: is there reason enough to say that within Indigenous communities we will ordain married men?
"We have married clergy. I mean, some of the clergy who are from other Churches are married men … so it's not as if we don't know married clergy."
The Pope appeared ready to test the water on celibacy after Vatican Synod in 2019 recommended it be suspended in the Amazon region of South America to address a chronic shortage of priests there –only to retreat, with Francis saying further "discernment" was required.
Backing Archbishop Coleridge's call for the change to start with Indigenous men, Bishop of Darwin Charles Gauci said: "With Aboriginal people, we need to be respectful of culture. Pope Francis has said that he is open in certain situations to ordaining married men; that is not off the agenda.
"The opportunity to have Indigenous priests ministering to their communities is one that we aspire to. I would be open to discussing this matter if it arose."
FULL STORY
End of celibacy nigh, says Brisbane Catholic Archbishop Mark Coleridge (By Jamie Walker, The Australian)
RELATED COVERAGE
Indigenous elder backs Archbishop's call for celibacy to be waived to recruit Aboriginal priests (The Australian)
Celibacy and service: a new generation of Catholic priests arrives (The Australian)