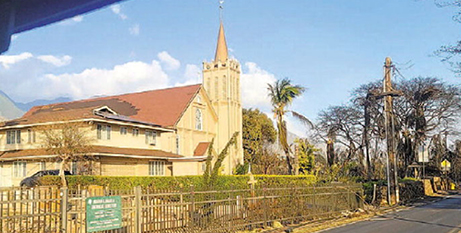 The devastating fires on the Hawaiian island of Maui have spared a historic Catholic church in Lahaina, providing a symbol of hope amid catastrophic destruction. Source: CNA.
At least 93 deaths had been reported as of Sunday, making the disaster the deadliest wildfire event in the United States since 1918. Authorities expect the death toll to rise.
Multiple fast-moving fires, fanned by strong winds and fuelled by dry vegetation, swept across the Hawaiian island. The western town of Lahaina, with fewer than 13,000 residents, was particularly devastated.
Maria Lanakila Catholic Church, named for Our Lady of Victory, has escaped destruction.
Msgr Terrence Watanabe, vicar forane of Maui and Lanai, told the Honolulu Star-Advertiser that the church building survived the first, with the neighbouring rectory also intact.
"For us, it's like a miracle," Msgr Watanabe said. "When we saw the news and saw the church steeple rise above the town, it was a great sight to see."
At the same time, the church's wooden roof has suffered some damage. It is difficult to determine how much the building was damaged. It's possible unseen structural damage could be extensive.
Maria Lanakila Catholic Church serves 700 to 800 families and celebrates six Sunday Masses every weekend. It hosts many weddings from visitors from around the world.
The parish was founded in 1846 and the stone church was finished in 1873, though improvements and renovations have been made to the structure, according to the parish website.
Robert Van Tassell, president and CEO of Catholic Charities Hawaii, said the effect of the disastrous fire on the Hawaiian community is "very dramatic."
"We know this is going to be a long haul, so we're preparing ourselves for a long recovery period."
FULL STORY
'For us, it's like a miracle': Catholic church appears to survive devastating Maui fire (By Kevin Jones, CNA)