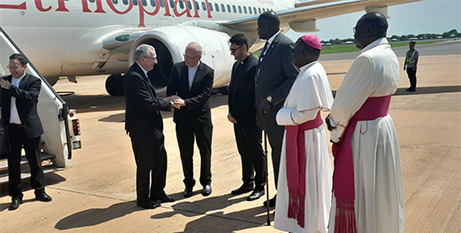 Vatican Secretary of State Cardinal Pietro Parolin yesterday began a four-day visit to South Sudan to show the Church's solidarity with the disaster-struck region of Malakal and to reaffirm the nation's efforts toward peace. Source: Vatican News.
Cardinal Parolin arrived in Juba yesterday morning. Today he will travel to the Diocese of Malakal for two days and spend Thursday in Rumbek.
Archbishop Stephen Ameyu Martin Mulla, the archbishop of Juba, spoke about the goals of Cardinal Parolin's visit to South Sudan in an interview with local media which was streamed on Facebook by Radio Bakhita, the Catholic radio station of the Archdiocese of Juba.
Archbishop Ameyu said the main purpose of Cardinal Parolin's time in South Sudan is to visit the Diocese of Malakal, since he was invited by Bishop Stephen Nyodho Ador Majwok in order to see the situation there for himself.
"All of us are familiar with the situation in Malakal: the question of natural disasters, flooding and many other things, along with man-made disasters," Archbishop Ameyu said. "But there is now also a window of opportunity for peace."
Archbishop Ameyu added that Cardinal Parolin is following up on the task to work toward peace which Pope Francis entrusted to the Church and political leaders in South Sudan.
He noted that this is Cardinal Parolin's second solo visit to the African nation, calling it an expression of the Pope's love for the people of South Sudan.
Pope Francis visited the country in February following extensive efforts on the part of the Church to seek peace among the rival factions.
FULL STORY
Cardinal Parolin arrives in South Sudan to encourage peace process (By Devin Watkins, Vatican News)