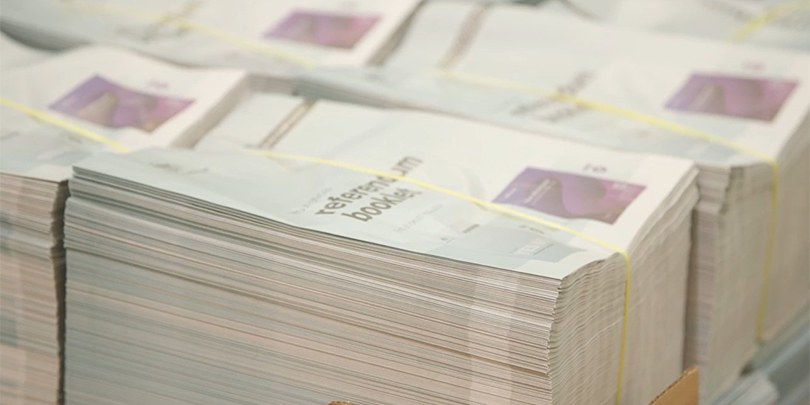 Millions of pamphlets outlining the official Yes and No cases for the Voice to Parliament are going out across the country, as Prime Minister Anthony Albanese prepares to announce the referendum date. Source: 9news.com.au
The Australian Electoral Commission has printed 13 million pamphlets. It aims to deliver them all by mid to late September, Australian electoral officer Nye Coffey said.
"From aged care facilities to suburban homes, from outback stations, to high-rise apartments, we're working with Australia Post to deliver the pamphlets right around the country," Mr Coffey said.
The pamphlet is also available online, along with instructions on how to properly fill out a referendum ballot, and the text of the proposal.
Recent polling suggests the referendum could be on the road to defeat, but Mr Albanese has kept up outward confidence that Australians will endorse the constitutional change.
Mr Albanese is in South Australia today, where he will announce the date for the Voice to Parliament referendum.
The announcement will signal the start of a six-week referendum campaign as millions of voters remain undecided.
"I'm contemplating winning this referendum. I'm focused on winning," Mr Albanese said.
The Yes campaign will need a majority of Australians plus a majority in at least four of the six states in order to succeed, which makes the state's vote crucial.
"South Australia is absolutely critical to this referendum, as it always has been to any progressive reform in this country," Voice advocate Noel Pearson said.
Warren Mundine, who is campaigning for the No vote, said the campaign would be "a real battle for the hearts and minds of the Australian public out there".
FULL STORY
Official Voice pamphlets go out to millions of households (By Adam Vidler, 9news.com.au)
PM to announce Voice to parliament referendum date on Wednesday (9news.com.au)