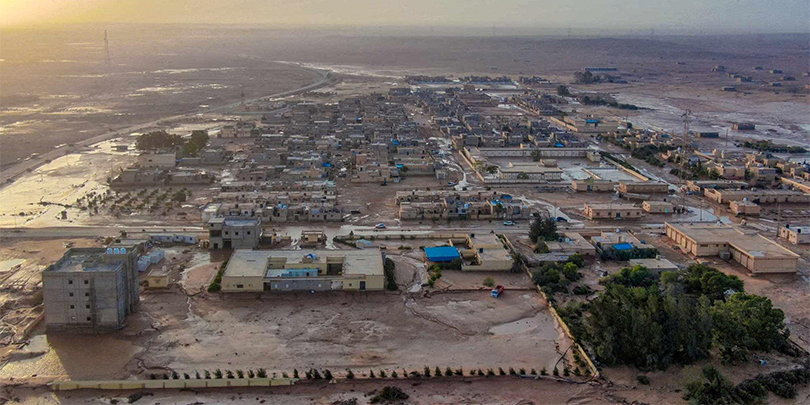 Caritas agencies are responding to flooding in Libya where at least 5300 lives have been lost and more than 10,000 people are missing, as Pope Francis appealed for the international community to come to the aid of the hard-hit nation.
Heavy storms from Cyclone Daniel caused two dams to burst on Monday, sweeping entire neighbourhoods from the city of Derna into the sea. The storms also caused severe weather conditions including strong winds and sudden heavy rainfall, causing widespread damage to homes and infrastructure.
"The situation in Libya is disastrous, with reports of entire neighbourhoods being swept away in some areas. People impacted by these floods will have immediate need of emergency shelter, access to clean drinking water, food and medicine. Caritas agencies are working to assess the damage and get help to those who need it most," said Melville Fernandez, Caritas Australia's Humanitarian Emergencies Associate Director.
Telecommunications have been interrupted, roads have been destroyed, and electricity towers have toppled, hampering rescue efforts and causing further hardship for survivors. There are reports from Derna of no clean drinking water and a lack of medical supplies, with the city's hospital overwhelmed with dead bodies.
On Tuesday, Pope Francis expressed his "heartfelt spiritual closeness to the injured, to those who fear for their missing loved ones and to the emergency personnel providing rescue and relief assistance".
After his general audience at the Vatican yesterday, the Pope invited all the faithful to join him in praying for those who have lost their lives, their families and those who have been displaced in Libya.
To support Caritas' work in Libya, visit https://www.caritas.org.au/libya
FULL STORY
Caritas agencies respond to devastating flooding in Libya (Caritas Australia)
Pope Francis: Libya needs our solidarity (Vatican News)