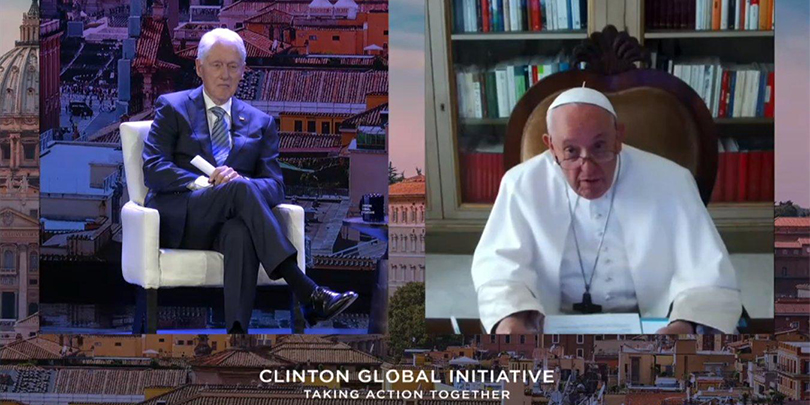 Kicking off a global meeting of leaders, Pope Francis told former US president Bill Clinton and the global community to take action to ensure peace for future generations and stop climate change "before it's too late". Source: NCR Online.
Opening the 2023 Clinton Global Initiative meeting of leaders in New York City yesterday, Mr Clinton asked the Pope, connected by video call, what ordinary people can do to address society's towering problems.
"We are in need of a great and shared assumption of responsibility," the Pope said, adding that "no challenge is too great if we each meet it with personal conversion and the personal contribution that each of us can make to solve it from an awareness of what makes us part of one destiny".
"Difficulties can bring out the best or the worst in us," he said. "Therein lies our challenge: fighting selfishness, narcissism, division, with generosity and humility."
Started in 2005, the Clinton Global Initiative aims to bring leaders to create and implement solutions to the world's most pressing challenges.
In his opening talk, Francis elaborated on the need to confront together the principal challenges facing society, particularly the "winds of war that blow across the world" and the climate crisis.
"It is time for the weapons to cease, for us to return to dialogue, to diplomacy. For the plans of conquest and military aggression to cease," he said. "That is why I repeat: No to war, no to war."
The Pope also urged the leaders to "work together to stop ecological catastrophe before it's too late", again sharing that he decided to write another document on the subject eight years after the publication of his encyclical "Laudato Si', On Care for Our Common Home." The document is expected to be released on October 4.
FULL STORY
Pope to global leaders: Save children, the planet 'before it's too late' (By Justin McLellan, CNS via NCR Online)