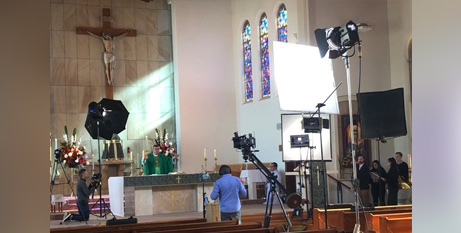 Catholics and Muslims have raised the alarm about the potential for Labor's new online misinformation laws to restrain the teaching of religious doctrine on issues such as euthanasia. Source: The Age.
The Australian Catholic Bishops Conference is pushing to make sure a person expressing sincere religious beliefs cannot be captured under a draft bill that has been criticised by the Coalition, human rights commission, civil liberties groups and top legal minds.
Melbourne Archbishop Peter A Comensoli, chair of the Bishops Commission for Life, Family and Public Engagement, claims the Communications Legislation Amendment (Combating Misinformation and Disinformation) Bill defines "harmful" mis- and disinformation so vaguely that it could capture a wide range of communications.
"Is it somehow harmful to say euthanasia is not medical care? Many people out there now say VAD [voluntary assisted dying] is a kind of medical care," he said in an interview. "I would argue it is not. Am I somehow doing harm by saying that?"
In the bishops' conference's written submission to the Government, Archbishop Comensoli said many religious services were streamed online and could be tied up in the bill, which has yet to be introduced to Parliament and seeks to address social harm caused by misleading and false information on social platforms.
"There are people who will sometimes incorrectly claim that the teachings of the Catholic Church are 'hateful' or 'harmful'. The conference is concerned that the bill could be used to portray the Church's communication of its teachings as a form of public misinformation," the Catholic submission states.
Kamalle Dabboussy, of the Australian Federation of Islamic Councils, said his organisation had not settled on a formal position on the bill but cited "concern that the debate around this and similar legislation may curtail freedom of religious expression".
The law, proposed by Communications Minister Michelle Rowland, would give the Australian Communications and Media Authority power to fine social media giants millions of dollars for misinformation and content it deems harmful.
FULL STORY
Church seeks exemption for religious belief in misinformation bill (By Paul Sakkal, The Age)