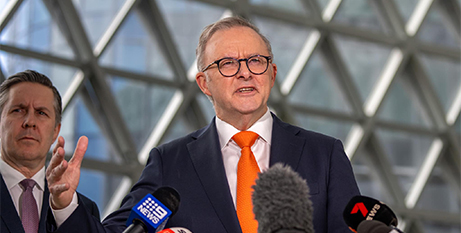 Australia's COVID-19 inquiry will call on premiers to give evidence about how they worked together during the pandemic but will not have the scope to investigate major decisions they took individually, such as lockdowns and school closures. Source: The Age.
Prominent epidemiologist Catherine Bennett, one of three experts leading the inquiry, said the panel would "absolutely" seek to hear from state and territory leaders because their interactions with the federal Government were critical to how national cabinet operated at the height of the pandemic.
But federal Opposition Leader Peter Dutton accused Labor of running a protection racket after Prime Minister Anthony Albanese revealed yesterday that unilateral decisions made by first ministers, which also included state border closures and vaccine mandates, were explicitly ruled out of the inquiry's terms of reference.
The Government's expert-led inquiry – called instead of a wide-ranging royal commission – is to report within 12 months on the Commonwealth response to the pandemic, including in relation to vaccines and medical supplies; financial support for individuals and businesses; help for Australians abroad; and how different levels of government co-ordinated through national cabinet.
Human Rights Commissioner Lorraine Finlay also criticised the Government for omitting individual state and territory actions while the Australian Medical Association said it could not see how examining state hospital systems and pandemic restrictions could be avoided if the inquiry were to come up with robust recommendations.
While political leaders clashed over the inquiry's scope, it was unclear whether it would hold public hearings, compel state premiers to testify, or force the release of national cabinet documents that would reveal the way crucial decisions were made. The panel members are yet to meet to decide the consultation process.
FULL STORY
Major state decisions to be excluded from COVID inquiry (By Natassia Chrysanthos, The Age)