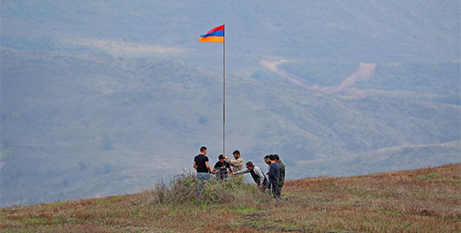 Thousands of Armenian Christians fled their ancestral homeland in the region of Nagorno-Karabakh over the weekend and more are expected, the Armenian Government confirmed. Source: CNA.
"The mass exodus has begun," said Siobhan Nash-Marshall, a United States-based human rights advocate who has been speaking to witnesses.
Ms Nash-Marshall founded the Christians in Need Foundation (CINF) in 2011 to help Armenian Christians in the region, and in 2020 she started a school for children and adults in Nagorno-Karabakh.
She has received word from her school in Nagorno-Karabakh that "all is over" and that "people from all regions, all villages, are homeless" and without shelter, food, and water.
Hundreds of ethnic Armenians are sleeping in the street and cannot drink water because they claim it has been "poisoned by Azeris," according to Ms Nash-Marshall's contacts.
According to the Armenian government, 6650 "forcibly displaced persons" have entered Armenia from Nagorno-Karabakh since last week.
Armenian Prime Minister Nikol Pashinyan said on Sunday that he expects most of the 120,000 ethnic Armenians in Nagorno-Karabakh to flee the region due to "the danger of ethnic cleansing", Al Jazeera reported.
Both former soviet territories, Armenia and Azerbaijan have been fighting over Nagorno-Karabakh for decades.
Though Nagorno-Karabakh, also known as Artsakh, is internationally recognised as part of Azerbaijan, the region is almost entirely made up of ethnic Armenian Christians.
Until last week, Armenians in the region claimed self-sovereignty under the auspices of the "Republic of Artsakh."
On September 19, Azerbaijan launched a short but intense military offensive that resulted in the deaths of more than 200 ethnic Armenians and more than 10,000 civilians were displaced. On September 20, the ethnic Armenians agreed to a cease-fire that resulted in the dismantling of their military and self-governance.
FULL STORY
Thousands of Armenian Christians flee homes: 'Mass exodus has begun,' expert says (By Peter Pinedo, CNA)