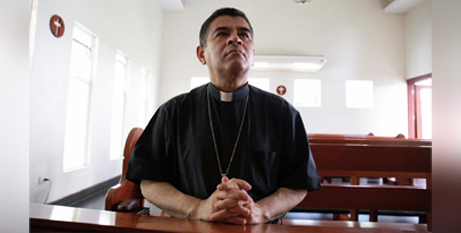 Imprisoned Nicaraguan Bishop Rolando Álvarez has been nominated for the European Parliament's top human rights award, reflecting the international attention the prelate has received for defending religious freedom. Source: NCR Online.
Bishop Álvarez, along with Nicaraguan lawyer and human rights defender Vilma Núñez de Escorcia, were nominated for the 2023 Sakharov Prize for Freedom of Thought.
The prize honours "exceptional individuals and organisations defending human rights and fundamental freedoms", according to the European Parliament. It was awarded in 2022 to the people of Ukraine.
The pair of Nicaraguan nominees were backed by Tilly Metz, a member of the European Parliament from Luxemburg, and 42 colleagues.
The September 20 nomination announcement said: "Núñez has been fighting for the human rights of Nicaraguans for decades. Despite persecution, she remains in her country. Álvarez, Bishop of Matagalpa, has been one of the most outspoken critics of President Daniel Ortega's regime. In February 2023, after refusing to leave the country, he was sentenced to 26 years in prison and his nationality was suspended."
Ms Núñez, 84, founded the Nicaraguan Human Rights Center in 1990 and sat on the country's high court. But she has battled both the dictatorship of Anastasiao Somoza, who was toppled by the Sandinistas in a 1979 revolution, and later the Ortega regime. She remains in Nicaragua, but had her nationality revoked in February.
Bishop Álvarez remains in prison after being sentenced in February to 26 years behind bars on charges of conspiracy to undermine national integrity and spreading false information. His trial, held in secret, also followed the expulsion of 222 political prisoners, who were sent to the United States on February 10. Bishop Álvarez refused to go into exile.
The bishop continues refusing to abandon the country. His exact condition remains uncertain.
The European Parliament will name the winner October 19.
FULL STORY
Imprisoned Nicaraguan bishop nominated for top EU human rights award (By David Agren, NCR Online)