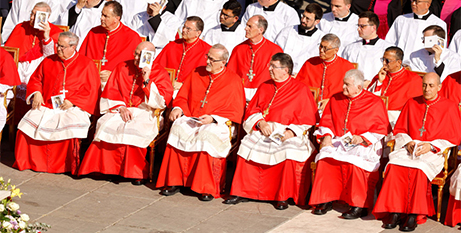 Pope Francis created 21 new cardinals from across the world at a consistory on Saturday, reflecting on how the geographic expansion of the Church's leadership represents a fulfilment of the promise of Pentecost. Source: National Catholic Register.
"You new Cardinals have come from different parts of the world, and the same Spirit that made the evangelisation of your peoples fruitful now renews in you your vocation and mission in and for the Church," the Pope told the new cardinals in his homily for the St Peter's Square consistory, 18 of whom are under the age of 80, and therefore eligible to vote in a conclave.
The September 30 consistory, which saw cardinals created from 15 different countries, was in continuity with Francis's steady geographic diversification of the College of Cardinals, carried out over the nine consistories he has held during his 10-year pontificate.
The new red hats include Cardinal Stephen Ameyu Martin Mulla of Juba, the first cardinal from South Sudan. Two other African prelates – Cardinal Stephen Brislin from Cape Town, South Africa, and Cardinal Protase Rugambwa of Tabora, Tanzania – were also elevated.
"Mother Church, who speaks all languages, is one and is Catholic," said Pope Francis at the consistory. The Pope has now created cardinals from 66 different countries, including several from countries that have never had a red hat, like Mongolia and Singapore.
In contrast to the increase in cardinals from the global South and East, the percentage of cardinals from Europe has fallen from 53 per cent in 2013 to 39 per cent today.
During his homily, the Pope shared a guiding image for the College of Cardinals, that of "a symphony orchestra, representing the harmony and synodality of the Church".
The Pope compared his role in the symphony to that of the conductor, who "has to listen more than anyone else".
But the true protagonist of the Church, Pope Francis said, is the Holy Spirit, who "creates variety and unity," and "is harmony itself."
FULL STORY
Pope Francis Creates 21 New Cardinals, Expanding Body's Geographic Diversity (Jonathan Liedl, National Catholic Register)
RELATED COVERAGE
Creating cardinals from 16 nations, Pope asks them to join Church 'symphony' (CNS)