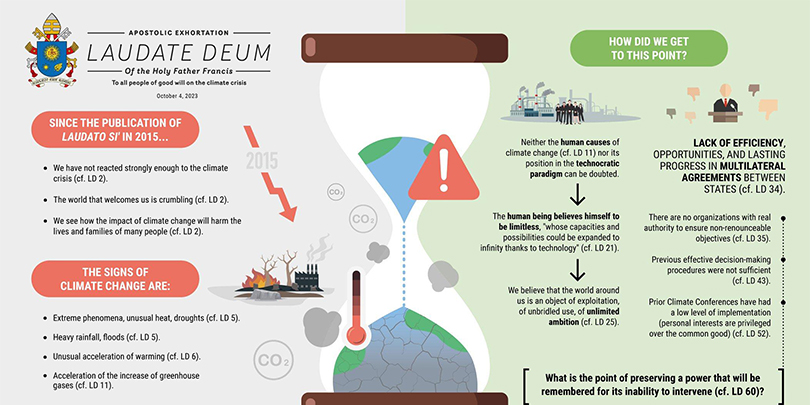 Warning that "the world in which we live is collapsing and may be nearing the breaking point", Pope Francis yesterday released a new document urging dramatic action to combat climate change. Source: Crux.
The document's release comes ahead of the United Nations COP28 summit scheduled for November 30 to December 12 in Dubai.
The new document, titled Laudate Deum, or "Praise God," amounts to a strong rejection of scepticism about global warming and the consequences of human intervention in the environment.
"Despite all attempts to deny, conceal, gloss over or relativise the issue, the signs of climate change are here and increasingly evident," the Pope writes in the text, released yesterday on the feast of St Francis.
Francis acknowledged that at times, those sceptical voices are heard even within his own flock.
"I feel obliged to make these clarifications, which may appear obvious, because of certain dismissive and scarcely reasonable opinions that I encounter, even within the Catholic Church," he writes.
In terms of assigning blame for the climate crisis, the pontiff is critical of wealthy nations, especially the United States, for disproportionately causing the emissions that scientists believe drive global warming.
Francis calls for "drastic" and "intense" results from the Dubai summit, including "a decisive acceleration of energy transition, with effective commitments subject to ongoing monitoring," as well as new commitments for the "necessary transition towards clean energy sources such as wind and solar energy, and the abandonment of fossil fuels."
Those commitments, the Pope says, must be "efficient, obligatory and readily monitored."
The 7000-word document, technically an "apostolic exhortation," is styled as a follow-up to the pontiff's 2015 encyclical letter Laudato Si', the first papal encyclical ever dedicated entirely to ecological themes.
FULL STORY
Pope rips climate scepticism, faults US for emissions in new eco-manifesto (By Elise Ann Allen, Crux)
RELATED COVERAGE
"Laudate Deum": the Pope's cry for a response to the climate crisis (Vatican News)
'Laudate Deum': A brief guide for busy readers (The Pillar)