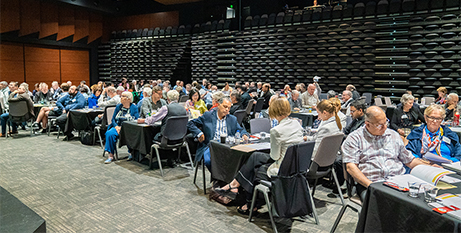 Perth Archbishop Timothy Costelloe SDB has asked Perth's Catholics how they can strengthen and deepen their identity as a Christian community. Source: The eRecord.
Archbishop Costelloe was speaking to delegates at the Formation Day for the Archdiocesan Assembly, which was attended by some 110 delegates and was held at Newman College in Perth on September 23.
Seated in tables of six people, delegates from all walks of life across the archdiocese were brought together – including priests, sisters, men, women, young and old – with the aim of undertaking a listening and discernment process ahead of the main Assembly Day scheduled for July 2024.
The Formation Day commenced with prayer before MC Tara Peters invited delegates to introduce themselves to each other.
Drawing upon his experience as president of the Fifth Plenary Council of Australia, Archbishop Costelloe discussed the purpose of diocesan assemblies and the recommendations of a Diocesan Pastoral Council.
He highlighted to assembly delegates the Decree of the Plenary Council that each diocese should be governed in a synodal manner through the creation of a Diocesan Pastoral Council.
He also spoke about how the Archdiocese can express the direction of Pope Francis to be more synodal in its actions, pastoral strategies and governance models.
We are nothing, Archbishop Costelloe emphasised, if we are not disciples of Jesus, if that is not the thing that holds us together, then we have no purpose to exist.
"We follow Him, He is our way and that is what we need to rediscover."
Delegates were then invited to have a group discussion and were also introduced to the Ignatian method of the Seven Steps of Listening and Discernment.
Delegates have now been invited to participate in further Listening and Discernment sessions throughout the archdiocese in the coming months in the lead-up to the assembly in July 2024.
Details: Archdiocesan Assembly.
FULL STORY
SPECIAL REPORT: Archdiocesan Assembly 2023-2024: Delegates commence formation: Called to journey together led by the spirit (By Jamie O'Brien, The eRecord)