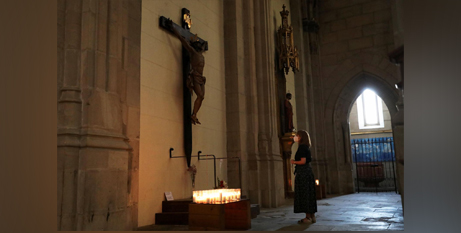 Spain's first official probe of sexual abuse by clergy members or other people connected to the Church included a survey that indicated that the number of victims could run into the hundreds of thousands. Source: NCR Online.
The survey was part of a damning report by the office of Spain's ombudsman, or "defensor del pueblo", following an 18-month independent investigation of 487 cases involving alleged victims who spoke with the ombudsman's team.
Ombudsman Ángel Gabilondo criticised the Church's response to sexual abuse scandals, saying it had often been to minimise if not deny the problem. He presented the nearly 800-page report to the speaker of the Spanish Parliament's lower house on October 27 and then to reporters.
"This is a necessary report to respond to a situation of suffering and loneliness that for years has remained, in one way or another, covered by an unfair silence," Mr Gabilondo said in a statement.
He acknowledged that the Church had taken steps to address both abuse by priests and efforts to cover up the scandal, but said they were not enough.
Included in the report were findings from a survey based on 8000 valid phone and online responses. The poll said 1.13 per cent of the Spanish adults questioned said they were abused as children by either priests or lay members of the church, including teachers at religious schools. Of those, 0.6 per cent identified their abusers as clergy members.
Given that Spain's adult population stands close to 39 million, that would mean some 440,000 minors could have been sexually abused by Roman Catholic priests, members of a religious order and lay members of the church in recent decades.
The Spanish Bishops' Conference was scheduled to meet yesterday to consider the ombudsman's report.
FULL STOSRY
Spain's report on Catholic Church sex abuse estimates victims could number in hundreds of thousands (NCR Online)