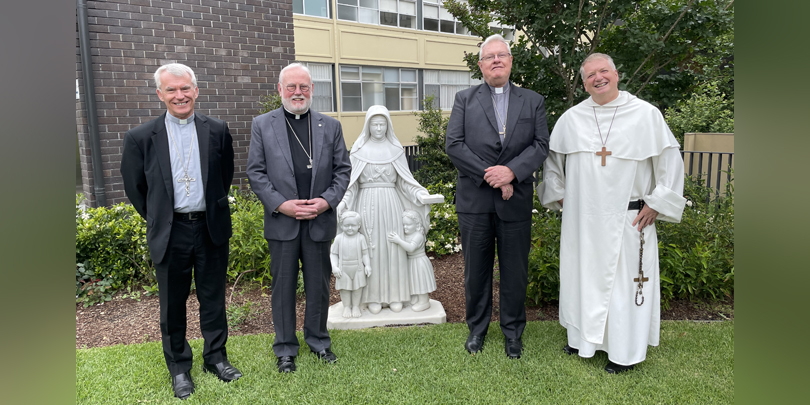 A senior Vatican official who served as Apostolic Nuncio to Australia has told the country's bishops that the Church is being called to be welcoming, healing and hopeful in a world challenged by war and unrest. Source: ACBC Media Blog.
Archbishop Paul Gallagher, the Vatican's Secretary for Relations with States and International Organisations, is on a six-day visit to Australia to mark the 50th anniversary of Australia-Holy See diplomatic relations.
During an address to the bishops on Monday as they gathered for their November plenary meeting in Sydney, Archbishop Gallagher said the world was facing "challenging times".
He said Pope Francis encouraged the Church in Australia to "hold on to hope and dream of a Church which is responsive to the needs of people, while fulfilling its calling to offer the consolation of the Resurrection and authentic solidarity to those who suffer".
Archbishop Gallagher said the Church in Australia had a role to play in offering hope to a highly polarised world and shaping what he described as a "culture of encounter and hope".
The first way in which the Church could achieve this was by being "welcoming", and the second was to be a "healing Church".
Archbishop Gallagher said healing had a dual purpose – "for healing to occur one must first acknowledge there is a problem to address and have the will to address it".
He noted the Church had "acknowledged with remorse and repentance" the crimes outlined in the Royal Commission into Institutional Responses to Child Sexual Abuse.
Archbishop Gallagher said healing also involved seeking reconciliation with Aboriginal and Torres Strait Islander people, noting Pope Francis' visit to Canada to meet with indigenous people in 2022.
Australian Catholic Bishops Conference president Archbishop Timothy Costelloe SDB said the challenges of being welcoming, healing and hopeful were ones the Church was seeking to respond to through the Plenary Council and the Synod on Synodality.
FULL STORY
Church called to be welcoming, healing and hopeful (ACBC Media Blog)
RELATED COVERAGE
Vatican foreign minister says religious freedom an "indispensable" element to conflict resolution (ACU)
Vatican Secretary for Relations with States to visit Melbourne (Melbourne Catholic)