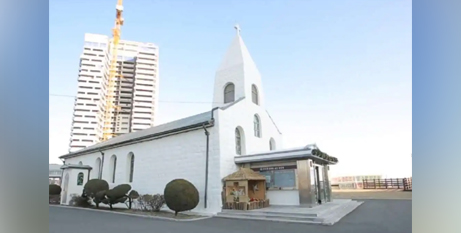 A group of Catholics in South Korea, led by their parish priest, have run a marathon to oppose the construction of high-rise buildings that threaten a historically significant church in Chuncheon Diocese. Source: UCA News.
Our Lady of Fatima Church at Dongmyeong-dong in Sokcho City was built during the Korean War about seven decades ago.
Besides its significance as a historical religious worship place, the church is a popular tourist destination where many flock to view the sunrise over the sea and is popularly called "the Sunrise Cathedral".
"I wanted to convey the will and earnestness of God's people in Dongmyeong-dong parish in Sokcho," parish priest Fr Lee Ki-beom said.
The marathon on October 29 sought to draw the attention of the authorities to protect the church from the construction boom that is allegedly endangering its beauty and heritage, the Korean-based Catholic Peace Broadcasting Corporation reported yesterday.
"I ran while praying earnestly that the cathedral, which boasts the best view among all cathedrals in the country, could be preserved in its original state," Fr Lee said.
"I wanted to convey a message to the spectators as if they were crossing a river and facing difficulties," he added.
Fr Lee lamented that if construction of high-rise apartments around the church is not halted, it will have a negative impact on the future of the parish.
Once the high-rise buildings are completed, they will completely block the sunlight and beautiful view of the cathedral, which attracts many visitors.
To oppose the construction boom, the parish has been doing everything it can to protect the cathedral by collecting signatures and offering daily prayers.
Although authorities have recently declared the church would be registered as a national cultural property, allowing it to be preserved as a national heritage site, Fr Lee was sceptical this would suffice to stop the construction spree.
FULL STORY
Korean Catholics run marathon to protect their 'Sunrise Church' (UCA News)