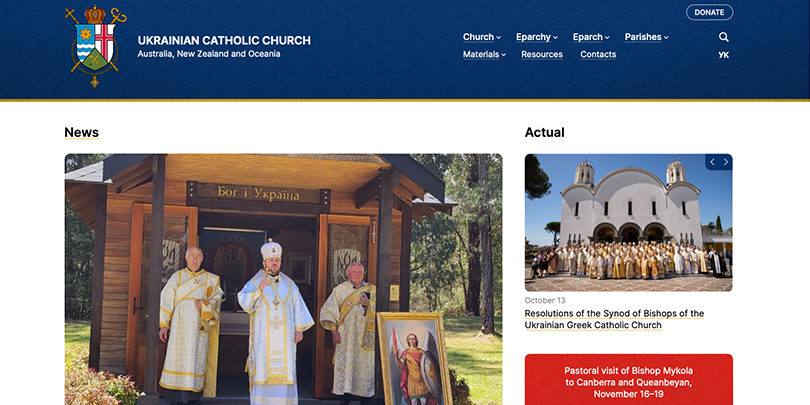 The Ukrainian Catholic Eparchy of Australia, New Zealand and Oceania has launched its new website, focused on sharing the Word of God and acting as a "bridge to our people", according to Bishop Mykola Bychok CSsR. Source: Melbourne Catholic.
"Sometimes it is difficult to pick up true information which can enrich us as humans and as believers," Bishop Bychok said. "Wrong information can destroy someone," he said, while "true information can heal a person".
The bishop said the Church must continue to use its online presence to proclaim the work of God, encourage the spiritual growth of its people and strengthen connections within the community.
"For us Ukrainians, this task is twice greater because of the war, where we must be witness to the truth behind the events that take place," he said. "Today, people are especially hungry to hear good words – and most of all, the word of God."
The launch of the website follows the anniversaries of two significant events in the life of the Ukrainian Eparchy: the consecration of its first bishop and the blessing of its cathedral.
Sixty-five years ago, Bishop Ivan Prasko was consecrated as the first bishop for Ukrainians in Australia and New Zealand at St Patrick's Cathedral in Melbourne,. Another milestone recently marked by the Eparchy was the 60th anniversary of the blessing of the Cathedral of Sts Peter and Paul in North Melbourne.
Visit www.catholicukes.au.
FULL STORY
Hungry for good news: Ukrainian Eparchy launches new website (Melbourne Catholic)