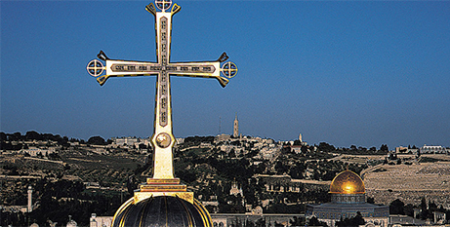 Church leaders in Jerusalem have joined the mounting criticism of the British Government's review of the location of its embassy to Israel. Source: The Tablet
The Council of Patriarchs and Heads of Churches in Jerusalem expressed "grave concern" at the review, which could see the embassy moved to the city from Tel Aviv. Such a move, they said, would be a "counterproductive endeavour" and "a further impediment to advancing the already moribund peace process".
In a statement issued on Monday, they said that the Corpus Separatum, the special status of Jerusalem recognised by the international community, was essential to guarding religious freedom and access to the holy places in the city.
"The religious status quo in Jerusalem is essential for preserving the harmony of our holy city and good relations between religious communities around the globe," the statement said.
It continued: "Implicit to the recognition of this status quo is the aforementioned Corpus Separatum that most of the world's governments have applied by refraining from locating their embassies in Jerusalem until a final status agreement on the holy city has been reached."
This follows repeated indications from British Prime Minister Liz Truss that her government would consider moving the embassy to Jerusalem, most recently in a letter published in the journal of the Conservative Friends of Israel.
The council includes the Latin Patriarch of Jerusalem, Archbishop Pierbattista Pizzaballa, and the heads of the Greek Melkite, Maronite, Syriac and Armenian Catholic Churches in the city, which are in full communion with the Holy See. The Orthodox patriarchs and the heads of the city's episcopal and evangelical churches are also on the council.
FULL STORY
Jerusalem patriarchs warn against British embassy move (By Patrick Hudson, The Tablet)