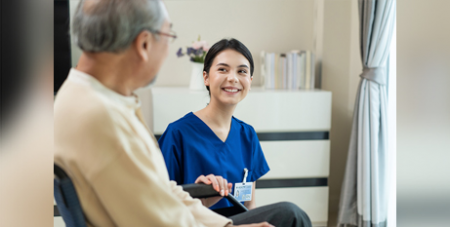 The number of people working in aged and disability care has grown by more than 70 per cent in five years, according to the latest figures released by the Australian Bureau of Statistics from the 2021 Census. Source: Pro Bono News
More than 1.7 million people work in the health care and social assistance industry, according to the latest statistics.
Thirty per cent of those are working in hospitals.
Aged and disability care experienced the strongest growth, with employment up by 72 per cent since 2016.
The number of occupational therapists increased to 19,429, up by 57 per cent, and audiologists and speech pathologists increased to 13,613 in 2021, up by 49 per cent.
There has also been an increase in the number of people working in mental health, with both psychologists and psychiatrists increasing over 40 per cent since the last Census in 2016.
Australian statistician David Gruen said the data showed that over 40 per cent of registered nurses and aged and disabled carers were born overseas.
"A 40 per cent share born overseas is significantly higher than the average across all occupations of 32 per cent born overseas," Dr Gruen added.
While females make up the majority of people employed as aged and disabled carers (77 per cent), the share of males working in these roles has increased slightly since 2016, to 23 per cent from 20 per cent.
The ABS data also revealed a discrepancy between the median weekly income of male and female aged and disability carers: males earn $1254, while females earn $1114.
FULL STRY
Strong growth in aged and disability care revealed in Census (By Danielle Kutchel, Pro Bono News)