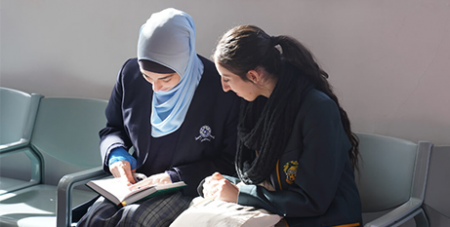 Catholic Mission's Interfaith Encounters program brings together senior students from diverse faith backgrounds to learn from each other, celebrate their differences and discover similarities.
More than 150 students from eight New South Wales secondary schools took part in Interfaith Encounters this year. Each school participated in workshops, shared meals and visited different places of worship to gain a deeper understanding of different faith traditions.
Through sharing their lived experience, students went beyond textbook learning and connected with one another.
For many students, this experience has been transformative in having a long-lasting impact on their vision of the world and leading to the promotion of peace and social cohesion within their communities.
"The first time students met they were shy and unsure about one another. Through the activities, games and meals we shared they have formed friendships with one another and many students have made very close friendships," Interfaith Encounters program coordinator Catherine Towiro said.
The objectives of the program are to open students to a wider range of religious, spiritual and ideological worldviews, and to better understand the diversity of experience and culture. It encourages them to deconstruct misunderstandings and lead them further in engaging with one another.
The focus has been on bringing Islamic and Catholic schools together and is inclusive of students of all faiths, ideologies, and worldviews.
Funding for the Interfaith Encounters Inter‐school program has been provided by the New South Wales Government through Multicultural NSW COMPACT Program.
Catholic Mission is looking forward to expanding the program and reaching more students in the coming years.
Details: www.catholicmission.org.au/interfaith
FULL STORY
How our younger generations are leading the way in opening their arms and hearts (Catholic Mission)