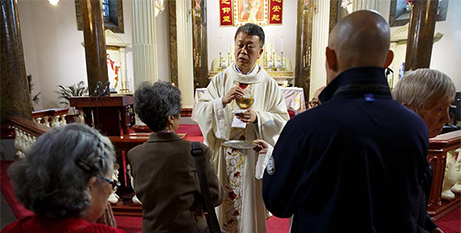 The Vatican has announced it has renewed its agreement with China on the appointment of bishops, extending a deal struck in 2018. Source: The Tablet.
The Vatican said was committed to "respectful dialogue" with China's communist government and to "fostering the mission of the Catholic Church and the good of the Chinese people".
The provisional agreement forged in 2018 and renewed in 2020, has been extended for another two years.
The text of the agreement has never been made public, but Vatican officials said it outlines procedures for ensuring Catholic bishops are elected by the Catholic community in China and approved by the Pope before their ordinations and installations.
In the past four years, six bishops have been named and installed under the terms of the agreement.
Cardinal Pietro Parolin, Vatican secretary of state, told Vatican News that the achievements of the agreement also included the lifting of the excommunications or irregular status of seven bishops who had been ordained with government approval, but not the Vatican's consent.
The agreement is still "provisional" because "we are still in the experimentation phase", the cardinal said. "As is always the case, such difficult and delicate situations require adequate time for implementation in order to then be able to verify the effectiveness of the result and identify possible improvements.
"Pope Francis, with determination and patient foresight, has decided to continue along this path, not under the illusion of finding perfection in human rules, but in the concrete hope of being able to assure Chinese Catholic communities, even in such a complex context, of the guidance of pastors who are worthy and suitable for the task entrusted to them."
FULL STORY
Vatican renews China deal (By Cindy Wooden, CNS via The Tablet)