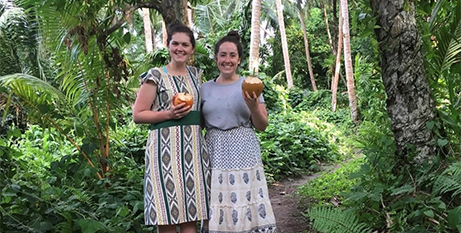 Eilish Flagg and Katie Rawet should have crossed paths as students in the same teaching degree at Australian Catholic University. Instead, they met in a remote South Pacific village with no electricity, running water or roads.
During their third year of university, the Victorians signed up to ACU's Solomon Islands Teacher Education Immersion program. The program offers ACU education students the opportunity to teach in a remote village in Savo Island for four weeks.
"We lived within the villages and the communities, and we had no running water, no electricity, no cars, no roads," Ms Rawet, a prep teacher at St John Bosco's Primary School, Niddrie, said.
"It was quite an immersive experience to live in the village and experience how they lived as well. It exposed us to different aspects of their culture that we would not have experienced otherwise."
For Ms Flagg, who works at St Mary's Catholic Primary School in Warracknabeal, the biggest lesson she learned was the importance of gratitude.
"There were no shops on the island we were on, so in the village you had to use whatever you had," she said. "The school also had very, very little resources and yet the students were so grateful for whatever learning experience they had.
"I use that a lot as a teacher now, where I try to tell the children in my class that we don't need the biggest and best things to achieve the same goal."
The pair, who are now studying a Master of Education specialising in Allied School Psychology at ACU Melbourne, continue to support the Solomon Islands immersion program, including returning to Savo Island at least once since they completed the program.
This week they will share their experiences to a global audience in Rome, representing ACU at the Uniservitate III Global Symposium. ACU and its Rome campus are official collaborators in the symposium, which will bring together leaders, educators, and students from around the world to promote service-learning within Catholic higher education institutions.
FULL STORY
Victorian Catholic primary school teachers to share Solomon Islands experience in Rome (ACU)