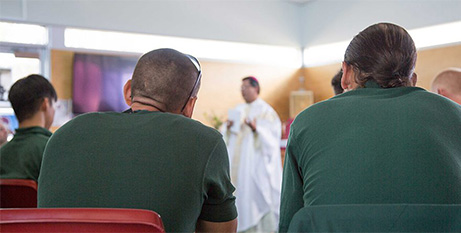 Just as Jesus offered redemption to thieves and tax collectors, so must Catholics routinely consider our similarly marginalised prisoner population, writes Catholic Health Australia's Brigid Meney. Source: Catholic Outlook.
Catholic health providers have a long and robust history of leading society and governments when it comes to caring for the most vulnerable. Fearless and without reserve or judgement, we recognise the dignity and worth of all people and their right to care, compassion, and healing.
Where society and even governments can sometimes draw the line in supporting those they deem "deserving", our faith challenges us to see Christ in all, sometimes a grave struggle in this flawed world.
Australia's prison system is in crisis, highlighted recently when the federal Assistant Minister for Treasury, Andrew Leigh, said the nation's incarceration rate has more than doubled since the mid-1980s.
This, he said, was more to do with stricter policing and sentencing than crime rates, and is costing taxpayers billions of dollars each year, in what he has previously dubbed the "second convict age".
Dr Leigh is backed by University of South Australia Emeritus Professor of Law and Criminal Justice Rick Sarre, who says that, rather than locking people up: "If you pump [funds] into welfare services, child protection, Indigenous mentoring, mental health support, supplementing income for families in crisis, then you're going to get far better bang for your buck than waiting for people to screw up and putting them behind bars."
Catholic Health Australia has been considering our obligations as Catholics in this space, after hosting a recent forum to discuss the needs of the prisoner in modern society.
From a health perspective, when an individual enters the prison system it can be an ideal time to provide a thorough and holistic health assessment.
But CHA's forum found that all too often this opportunity for proper ongoing care of the vulnerable is lost, through gaps in transitional care, housing, employment, and the prison workforce itself.
Brigid Meney is the Director of Strategy & Mission for Catholic Health Australia.
FULL STORY
Catholic Health Australia striving to improve outcomes for prisoners (Catholic Outlook)