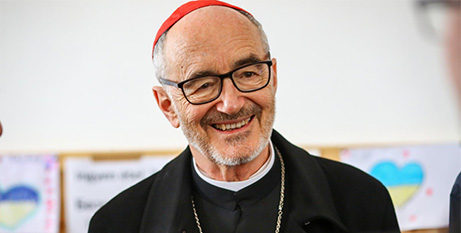 Cardinal Michael Czerny SJ will speak about the social teaching of Pope Francis when he delivers the annual Cardijn Lecture next week. Source: Australian Cardijn Institute.
Cardinal Czerny is the prefect of the Vatican Dicastery for Promoting Integral Human Development. His address, "Siblings All, Sign of the Times: The Social Teaching of Pope Francis" takes its title from his forthcoming book of the same title, jointly authored with Fr Christian Barone.
Cardinal Czerny will also speak of his experience in working for social justice in Canada, Central America and more recently in Ukraine as well as his previous role with the Vatican office for refugees and migrants.
Named after Cardinal Joseph Cardijn, founder of the Young Christian Workers movement, the Cardijn Lecture is an annual event sponsored by the Australian Cardijn Institute in partnership with Catholic Mission Australia.
Fr Brian Lucas, Catholic Mission's director, said: "The Cardinal Cardijn methodology of 'see, judge, act' sits very neatly with a commitment to social justice as we seek to properly understand the world around us, the circumstances of injustice and impoverishment, and make prudential judgments as to what is achievable, and then, most importantly, take steps to implement what has been discerned."
Responding to Cardinal Czerny will be Susan Pascoe, a member of commission on methodology of the 2023-24 Synod on Synodality.
"One of the unique features of the Synod on Synodality is the level of iterative engagement with all of the People of God," Ms Pascoe said. "Moving from local to continental to universal consultation, the Church is listening and discerning what God wants for the Church in the third millennium."
The Cardijn Lecture will be held online on Monday, November 14, at 7.30pm (AEDT). Click here to register.
FULL STORY