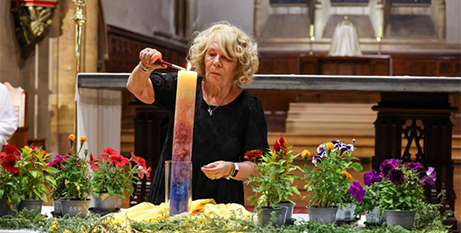 Adelaide's religious and community leaders used the annual Remembrance of the Shoah service in St Francis Xavier's Cathedral to raise concerns about increasing anti-Semitism while warning of the dangers of staying silent. Source: The Southern Cross.
The sombre and moving interfaith event featured testimonies related to the Holocaust on the anniversary of Kristallnacht on November 9 but also was an opportunity for members of the local Jewish community to share recent experiences of anti-Jewish racism and hatred.
Dr Ron Hoenig, co-chair of the Council of Christians and Jews, and Vicar General Fr Dean Marin, led the prayer service, the Beit Shalom Synagogue Choir provided the music and Holocaust survivor Eva Temple brought forward the "candle of hope".
Fr Michael Trainor, co-chair of the Council for Christians and Jews, spoke about his recent participation in the R20 Religious Forum in Indonesia which was organised by the world's largest Muslim organisations in conjunction with the Indonesian presidency of the G20.
In an impassioned plea to eradicate bigotry, Adelaide businessman Norman Schueler spoke of the resilience and positivity of his mother, Gogo, who grew up in Nuremberg within earshot of the beer garden that Hitler used to frequent and give his "incendiary speeches".
He also referred to Yorta Yorta man and Aboriginal activist William Cooper who was so motivated by a love for his fellow man and a hatred for injustice that when Kristallnacht occurred, he led a delegation to the German consulate in Melbourne on December 6, 1938, to protest the treatment of Jewish people.
Kathy Baykitch, director of the Adelaide Holocaust Museum and Andrew Steiner Education Centre, reiterated that the Holocaust was "not just a story from our history".
"It is a sacred duty we owe to every Holocaust victim and survivor to share this history so we all continue to learn from it."
FULL STORY
Plea to combat anti-Semitism (By Jenny Brinkworth, The Southern Cross)