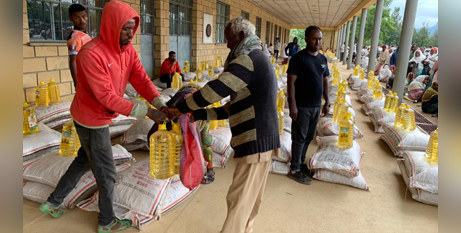 Salesian Missions Australia has launched an emergency relief appeal for the Horn of Africa, where the Salesians of Don Bosco are providing access to food relief, education, basic necessities and agriculture programs.
Currently, SDBs and their collaborators are located in the State of Tigray (Ethiopia), Palabek Refugee Settlement (Uganda), Juba (South Sudan), and Goma (the Democratic Republic of Congo) – all of which are part of the Horn of Africa and Central Africa where the severity of food shortages has recently increased and the number of internally displaced people (IDP) continues to swell as conflict uproots the lives of many.
In Tigray, the Salesians have reached some 3000 families, distributing food and repairing damaged schools and churches that currently house many families.
With the ongoing unrest in the north of Goma in the Democratic Republic of Congo, thousands of people have flooded the city occupying the playgrounds surrounding the Don Bosco Ngangi Youth Centre.
The Salesians are working in solidarity with the local residents to assist the IDP who have no choice other than to leave their lives behind.
Located 30 kilometres from the border of South Sudan in Uganda, Salesians reside within the Palabek Refugee Settlement and have recently been instrumental in finding ways to supplement decreasing food rations available for the World Food Program.
Beyond necessities and nutrition, the Salesians are also seeking to meet the human needs of those who have been displaced.
In Juba, South Sudan, approximately 4000 children access primary and secondary schooling. In addition to providing access to education, the Salesians are also active in providing women's programs and sports programs for children in the camp.
Salesian Missions is seeking donations to assist the Salesians of Don Bosco to continue this work. Details:  www.salesianmissionsaustralia.org.au.
FULL STORY
(Salesian Missions Australia)