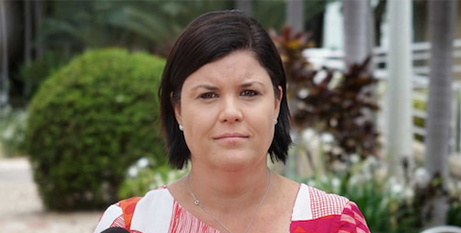 Northern Territory Chief Minister Natasha Fyles says her Government's Anti-Discrimination Amendment Bill aims to strike a balance between providing exemptions and removing the right to discriminate. Source: NT News.
The controversial bill is expected to face scrutiny from the Opposition and crossbench with the Country Liberal Party and independents already expressing concerns to amendments in section 37a and 18c.
The exclusion of section 37a by the Labor Government is a first in any Australian discrimination law and aims to remove the right for faith-based schools to discriminate on the basis of sexuality.
Ms Fyles said the changes aimed to strike a balance between providing exemptions under section 35 and section 50 while also removing the right to discriminate under section 37.
"We will still allow religious schools to operate, but they won't have a broad-brush exemption to discriminate and in the Northern Territory, we have some remote communities where a religious school is the only school in that community," she said.
A draft of the bill was released in July for public consultation and received 172 submissions. Ms Fyles said overwhelming feedback was to remove the section as there was "no way of drafting around it".
On the weekend, Northern Territory's Attorney-General Chansey Paech told ABC News it had been "extensively consulted since 2017".
Darwin Bishop Charles Gauci rejected this, and said the Government had done "very, very little" consultation over the changes.
Independent Member for Araluen Robyn Lambley said the sweeping changes were "radical Labor values".
"Under this radical Left Labor regime we will be forced to adopt 'Labor values' rather than the values Territorians choose for ourselves," she said.
Ms Lambley said amendments to 18C would broaden the definition of "offensive" to mean anything anyone finds "offensive" could be anonymously reported to the Anti-Discrimination Commissioner for investigation.
FULL STORY
A progressive reform is expected to cause heated debate as NT parliament returns for final sittings (By Amanda Parkinson, NT News)
Religious leaders in the NT urge government to revise proposed changes to anti-discrimination laws (ABC News)