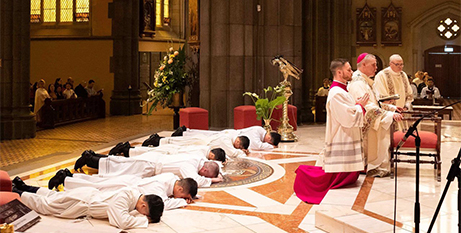 Melbourne Archbishop Peter A Comensoli ordained three new priests and three transitional deacons for the Melbourne Archdiocese at St Patrick's Cathedral on Saturday. Source: Melbourne Catholic.
In his greeting and introduction, Archbishop Comensoli commented on how good it was to see the cathedral so full of people for the ordinations of Fr Huy Nguyen, Fr Vinh Do and Fr An Le to the priesthood, and of Rev Thomas Christie, Rev Tien Tran and Rev Peter (Ngoc) Nguyen to the transitional diaconate.
In his homily, Archbishop Comensoli spoke of the need to put the horse before the cart, explaining that this was an apt image to consider St Paul's advice to the Church in Ephesus on how to "lead a life worthy of your vocation".
"Charity, selflessness, gentleness, patience, unity, peacefulness. These are the key behaviours Paul called the Ephesians to live by; these are the chief characteristics of a vocation in the Lord," Archbishop Comensoli said.
"Here is the horse. These are the drivers that bring us into a life in the Holy Spirit, the features which bind us to the one Body of Christ."
Fr Huy Nguyen spoke on behalf of the newly ordained. Speaking English and Vietnamese, he thanked the "many people who have supported us on our formation journey", including Archbishop Comensoli, outgoing Corpus Christi Seminary rector Fr Denis Stanley and the broader Corpus Christi community, and the staff and students of Catholic Theological College.
Acknowledging that the family home is often the place where the Catholic faith is learned and "where we learn to pray", he paid special tribute to the families of the newly ordained, thanking "all of you who are here today for your love, support and sacrifice".
He also acknowledged the encouragement and support of the parish communities among whom they had ministered on pastoral placements throughout their formation.
FULL STORY
Three new priests and three new deacons ordained for Melbourne (Melbourne Catholic)