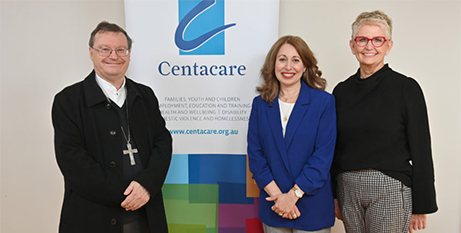 Child protection and family support services specialist Leanne Haddad has been appointed director of Centacare Catholic Family Services in South Australia. Source: The Southern Cross.
Adelaide Archbishop Patrick O'Regan announced Ms Haddad will commence in the new role on January 3, 2023.
A mother-of-three, Ms Haddad has for the past year been deputy director, providing leadership, corporate and service delivery support to director Pauline Connelly.
Ms Connelly assumed the role after the retirement of long-time director Dale West in early 2021.
After guiding Centacare through a period of significant change, Ms Connelly has chosen to return to her substantive position of deputy director.
Ms Haddad said she and Ms Connelly would continue to lead in partnership and shape service growth in line with community need and informed by the principles of Catholic Social Teaching.
"I have been very fortunate to have been mentored firstly by Dale and most recently Pauline, who is extremely giving with her knowledge and has a genuine commitment to developing other leaders," Ms Haddad said.
"I will continue to build on the solid foundation and history they have created and embrace this opportunity with energy and heart for Centacare, and an ongoing commitment to learning."
Ms Haddad has worked in both government and non-government services across operational child protection positions, policy and planning, learning and development, contract management, service design, leadership and executive roles. She joined Centacare in 2017.
Centacare supports more than 20,000 people annually across 67 services and 31 sites in metropolitan and regional South Australia.
FULL STORY
New Centacare leadership announced (The Southern Cross)