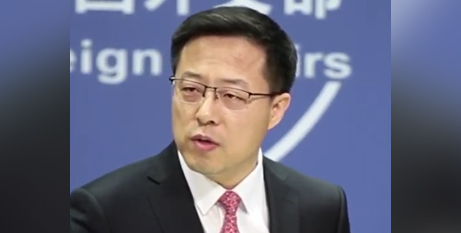 After complaints from the Vatican that Beijing was violating a 2018 interim accord, China's Foreign Ministry spokesperson said the country is willing to expand the "friendly consensus" achieved with the Vatican over bishops' nominations. Source: AP.
The Vatican issued an unusually harsh statement on Saturday complaining that Beijing had installed Bishop John Peng Weizhao as an auxiliary bishop in the province of Jiangxi, which the Vatican doesn't recognise as a diocese.
China and the Vatican haven't had diplomatic relations since 1951, following the Communists' rise to power and the expulsion of foreign priests. The Vatican has sought in recent years to open contacts and reduce frictions, particularly over the appointment of bishops.
At a daily briefing on Monday, spokesman Zhao Lijian said he was unaware of the specific situation involving Bishop Peng but said that relations between China and the Vatican had improved over recent years for the benefit and "harmonious development" of Chinese Catholicism.
"China is willing to continuously expand the friendly consensus with the Vatican side and jointly maintain the spirit of our interim agreement," he told reporters.
In its statement, the Vatican said Bishop Peng's installation ceremony took place after "long and heavy pressure from the local authorities."
"In fact, this event did not take place in accordance with the spirit of dialogue," or what is called for by the 2018 accord, the Vatican statement said.
The Vatican efforts toward reconciliation between the official, state-sanctioned church and an underground Church loyal to the Pope led to its willingness to sign what it admits is a far-from-ideal accord in 2018, which regularised the status of several bishops and paved the way for future nominations.
FULL STORY
China vows more 'friendly consensus' amid Vatican complaints (AP via Crux)