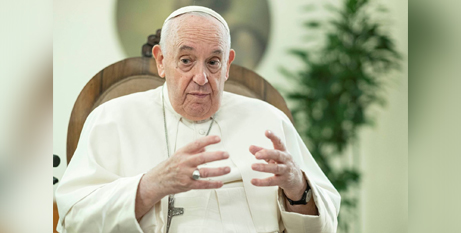 In a new interview, Pope Francis decried Church polarisation, ruled out women priests and emphasised the importance of the ministry of individual bishops over the role of a bishops conference. Source: CNS.
"The more polarisation there is, the more one loses the Catholic spirit and falls into a sectarian spirit," the Pope told America magazine. "What is Catholic is not either-or, but is both-and, combining differences."
The Jesuit weekly interviewed Pope Francis on November 22. The interview was released yesterday.
Asked about abortion and the way the emphasis on Church teaching against abortion seemed to be politicising and polarising Catholics in the US, Pope Francis insisted the foetus is a human being and repeated his view that abortion is killing a human being to resolve a problem.
But, he said, the problem for the Church "arises when this reality of killing a human being is transformed into a political question, or when a pastor of the Church uses political categories," which he said was a "failure of pastoral care".
Pope Francis declined to give an opinion on whether the United States Conference of Catholic Bishops should present the fight against abortion as its preeminent concern.
"This is a problem the bishops' conference has to resolve within itself. What interests me is the relationship of the bishop with the people, which is sacramental," he said. "The sacramental part of the pastoral ministry is in the relationship between the pastor and the people of God, between the bishop and his people. And this cannot be delegated to the bishops' conference."
"Jesus did not create bishops' conferences," the Pope said. "Jesus created bishops, and each bishop is pastor of his people."
On the question of women in the Church, Pope Francis insisted that ordained ministry is open only to men but that the Church has a feminine, Marian dimension that is even more important. But, he said, administrative roles do not belong to either theological category, and the Church should appoint more women to those offices.
FULL STORY
With America magazine Pope talks about church division, women, abortion (By Cindy Wooden, CNS)
Exclusive: Pope Francis denounces polarization, talks women's ordination, the U.S. bishops and more (America Magazine)