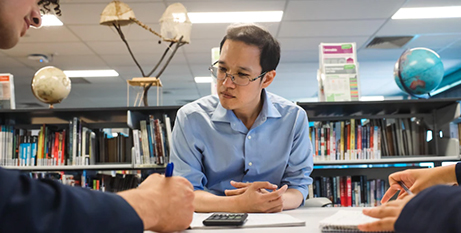 A collaboration between Catholic education in the Parramatta and Bathurst dioceses and the not-for-profit Teach For Australia will see eight career-changers become teachers in Western Sydney schools next year. Source: ABC News.
Those in the program undertake a Master of Teaching, while working hands-on in a school. It's a model that's been used in other states and territories, but this is the first time in New South Wales.
One career-changer is Jamie Sutanto. Mr Sutanto already made one huge career change in his life, shifting from mechatronic engineering to work in a CGI studio after seven years.
"It kind of started the pathway to go, 'Maybe I can do animation, even though I've never done it before'," he said.
"I did so many roles in that company … it showed me that you can do more than you think you can do."
After spending another seven years there, he began thinking about what's next. "What I really realised is that we all have a lot of possibility," he said.
"I think that kids today need to know that. Even if they don't think they can do certain things, they actually can do [them]. "They just need to put the effort [in] and actually try."
The NSW Government recently announced up to 50 future TFA recruits will be working at government schools from 2024.
TFA chief executive Melodie Potts Rosevear said she felt career-changers could give "real world flavour" to the classroom.
"At a time when all schools are working so hard to secure the workforce their students need, we're glad for this opportunity to bring additional people to classrooms in New South Wales, to work alongside the dedicated teachers and principals already serving students," she said.
FULL STORY
Career-changers to help fill NSW's teacher shortage (By Tim Swanston, ABC News)