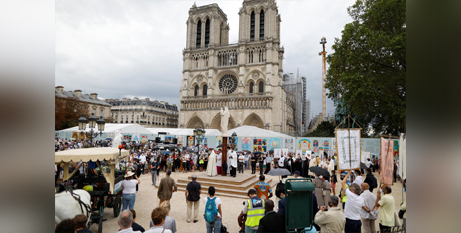 France's Catholic bishops have set up what they believe to be the world's first major national Church court, replacing a previous network of local tribunals. Source NCR Online.
The statement explained the role of the National Canonical Penal Court, set up in Paris on December 5.
It said the 20-member court, approved by the Vatican in September, would be tasked with judging "canonical offences committed by clergy and laity" nationwide, such as acts of sacrilege, apostasy, schism, misuse of sacraments and teachings against the Church's magisterium. The court aimed to "strengthen and harmonise" procedures formerly followed by diocesan and archdiocesan tribunals.
"This is an unprecedented court, which does not exist, with such form and competence, under any other bishops' conference," the statement said.
"Any Catholic or person who feels aggrieved by the criminal behaviour of a Catholic within ecclesial activities can now address the promoter of justice."
Establishment of the court, partly staffed by lay experts, was one of 45 recommendations by an Independent Commission on Sexual Abuse in the Church in its 2500-page report released in October 2021. The report also proposed an external audit for victim support units and selling diocesan assets to finance compensation to those who were abused.
However, while the new court would hear accusations involving adults, claims of sexual offences by clergy against minors and canonical complaints against bishops would continue to be referred to the Vatican, the statement said.
FULL STORY
French bishops set up national church court, recommended by abuse report (NCR Online)