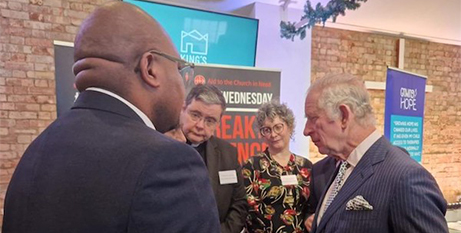 Britain's King Charles has met a priest who survived abduction and death threats in Nigeria, at an Advent gathering of Christian charities in London last week. Source: The Tablet.
Fr Alfred Ebalu, who now serves in the Southwark Archdiocese in England, was part of a delegation from Aid to the Church in Need, who spoke to the King on his visit on December 8 to King's House, an Anglican mission centre run by charity KXC.
Fr Ebalu described the growing persecution of Christian in his country – violence which ACN has said "clearly passes the threshold of genocide".
The charity's delegation, led by its UK director Dr Caroline Hull, provided the King with an overview of mounting attacks on Christians in other parts of Africa.
They also introduced the King to the recent report Persecuted and Forgotten? , which detailed worsening conditions for Christian communities across the world. Covering the period 2020-22, it found that the persecution of Christians increased in three-quarters of the countries surveyed.
"We are so grateful to the King for giving us the opportunity to introduce him to witnesses of Christian persecution," Dr Hull said after the event.
The King has spoken several times since his accession on the importance of "protecting the space for faith itself". As Prince of Wales, he made numerous public interventions on behalf of persecuted Christians and religious minorities, particularly in the Middle East.
FULL STORY
King hears testimony of persecuted Christians (By Patrick Hudson, The Tablet)