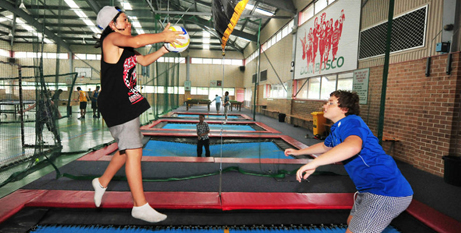 As two boys race through the front door of Don Bosco, one yells out to the other, "What is this place?", to which the other replies, "This is my home away from home, come in!!" Source: Catholic Outlook.
This is precisely the reason that Don Bosco Youth and Recreation Centre in St Marys, western Sydney, exists.
"The idea is to provide a safe place for underprivileged kids. Instead of them needing to go around looking for trouble, they can be here," Director Fr John Walenciej said.
"The first thing with unhappy kids is to make them feel welcome and comfortable. It's a Gospel of joy and loving kindness. This experience of freedom and fun is deeply transformative for many of the children."
For nearly 30 years, more than 70,000 young people a year, free of charge, have played at the extensive sporting facilities at the recreation centre.
They come from a range of communities, including Caucasian, Pacific Islander and Indigenous communities. In recent years, the children of refugees from Sudan became one of the largest groups attending the centre, which is open to people of all faiths as well as the unchurched.
Don Bosco Youth and Recreation Centre is a joint project by the Salesians of Don Bosco, the Diocese of Parramatta and Penrith City Council. The Diocese of Parramatta, in particular, has provided continued financial support during the nearly 30 years of operation. Recently, the centre was provided with a vehicle to provide for the transport needs of the centre.
FULL STORY
Don Bosco Youth Centre – 'my home away from home' (By Sr Jenny Doudle FMA, Catholic Outlook)