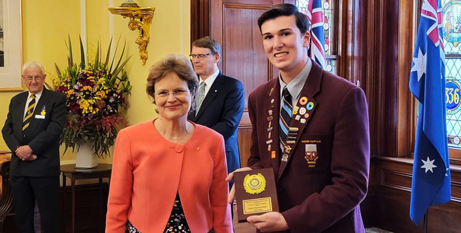 Volunteering to support the homeless and those in need, as well as addressing big issues like climate change, were some of the community contributions that saw Catholic school student Callum Barrott-Walsh named South Australia's joint Student Citizen of the Year for 2022. Source: The Southern Cross.
The Year 12 student from Cardijn College at Noarlunga Downs was presented the prestigious award by the South Australian Governor Frances Adamson AC. Unable to be separated by the selection panel, Callum was named co-recipient alongside Jordan Norman from Urrbrae Agricultural High School.
At the presentation ceremony at Government House in November, Callum's impressive contributions to his school and wider community were acknowledged.
They included participating in the UN Youth (Australia) State Conference which addressed issues such as climate change, refugees and homelessness, volunteering for and assisting with fundraising events and activities supporting Vinnies' Christmas hamper appeal and Fred's Van, and the Hutt St Centre's Walk a Mile challenge. Callum was also recognised for being an excellent leader at Cardijn College.
The Student Citizenship Awards are presented by the Order of Australia Association SA Branch, with the top 10 students in the state invited to the ceremony. Among the recipients was Imogen Brown, also in Year 12 at Cardijn College.
The awards recognise Year 11 and 12 students who contribute broadly through voluntary service to school and/or the general community. Students are nominated by their schools and selected from submissions assessed against four criteria – leadership, contributions to the school and/or community and contributions to the environment and/or community development, as well as pride in Australian citizenship.
FULL STORY
Callum takes top citizenship award (The Southern Cross)