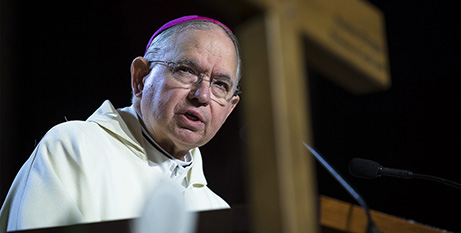 Los Angeles Archbishop José Gomez has offered prayers for victims of a shooting on Saturday at a ballroom dance studio in Monterey Park, California. Source: CNA.
"We pray for those killed and injured in this shooting, we ask that God stay close to their families and loved ones," the archbishop said in a statement released on Sunday. "We pray for the wounded to be healed, and we ask that God give strength and guidance to the doctors and nurses who are caring for them."
Ten people were killed and at least 10 more were wounded after a gunman opened fire late Saturday night at Star Ballroom Dance Studio in Monterey Park. Shortly after the shooting, the 72-year-old suspect entered another nearby dance studio but was disarmed by two community members, the Los Angeles Times reported. The suspect then fled in a white cargo van.
The shooting, one of the worst in Los Angeles' history, took place in the midst of a two-day Lunar New Year festival that attracted tens of thousands of participants to what is considered a core of the Southern California Chinese community, according to the Times.
Authorities later determined that the suspect, Huu Can Tran, from nearby Hemet, California, died of a self-inflicted gunshot wound.
"We ask that God grant wisdom and prudence to law enforcement and public officials working to make sense of the violence and keep our communities safe," Archbishop Gomez said in his statement.
"And we pray for peace. Peace in the hearts of those who are troubled. Peace in the hearts of those who are afraid and hurting today, and peace for those whose faith has been shaken."
FULL STORY
Los Angeles archbishop prays for victims of shooting at dance studio (CNA)
RELATED COVERAGE
Outpouring Of Grief, Prayers As Lunar New Year Massacre Latest U.S. Mass Shooting (OSV News)