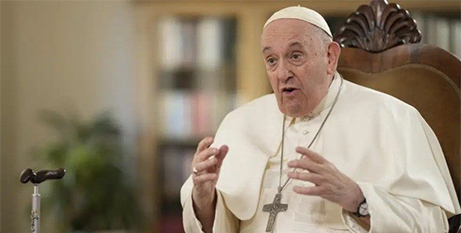 Pope Francis has condemned the criminalisation of homosexuality and backed the repeal of such legislation in countries where it exists, saying that the Catholic Church must work towards an end to what he described as "unjust" laws. Source: NCR Online.
"Being homosexual is not a crime," he said in an interview with the Associated Press released on Wednesday "It's not a crime. Yes, but it's a sin. Fine, but first let's distinguish between a sin and a crime."
Francis said that bishops in countries that support criminalising homosexuality "have to have a process of conversion," and apply "tenderness, please, as God has for each one of us."
More than 60 countries and jurisdictions criminalise consensual same-sex sexual activity, with 11 allowing for the death penalty for violating such laws.
In the new interview, the Pope referred to the official Catechism of the Catholic Church, which says gay people should not be marginalised or excluded from society. Since the start of his papacy, Francis has walked a tightrope on LGBTQ issues, repeatedly saying that the Church should offer greater welcome to gay people, while at the same time approving a 2021 Vatican decree forbidding priests from blessing gay couples.
Francis dismissed concerns of those who have expressed scepticism of the pastoral direction of his papacy, saying that while they may be irksome — "like a rash that bothers you a bit" — he prefers that such concerns be voiced in the open.
In regards to the revelation that the late Cardinal George Pell, who died on January 10, had characterised his papacy as a "disaster," Francis seemed unfazed by the remarks.
"Even though they say he criticised me, fine, he has the right. Criticism is a human right," said the Pope. "He was a great guy. Great."
FULL STORY
In papal first, Francis backs decriminalisation of homosexuality: 'Not a crime' (By Christopher White, NCR Online)
RELATED COVERAGE
'Being homosexual is not a crime,' Pope Francis reiterates in new interview (By Courtney Mares, CNA)
Pope: Critics help us grow, but I want them to say it to my face (Vatican News)