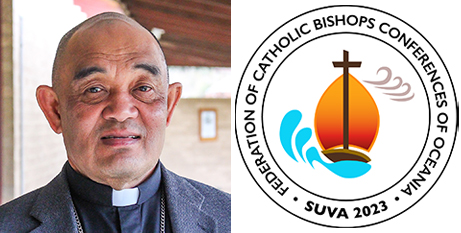 Dozens of bishops will descend on Fiji this weekend for the quadrennial gathering of the Federation of Catholic Bishops Conferences of Oceania to reflect on and pray about their shared mission in the region.
The assembly will bring together members of the bishops conferences of Australia, New Zealand, Papua New Guinea/Solomon Islands and the Pacific Islands.
One of the key themes of the FCBCO assembly is the oceans, particularly the intersection between the People of God and the seas.
Archbishop Peter Loy Chong of Suva, the current president of the federation, said the bishops of Oceania must tackle the reality of rising sea levels in their part of the world "because if we don't, no one else will".
"As theologians say, context matters," he said. "And as Jon Sobrino, the Latin American theologian says, 'we have to carry the weight of the reality of our experience' and, for us, that experience is of the oceans.
"We will speak about the small island nations and the Pacific Ocean in a way that we who live in the islands and live on the ocean know the importance of the ocean and its significance in terms of the Earth's whole ecosystem."
The bishops will participate in site visits while in Fiji to assess the impact of rising sea levels and extractive mining processes on low-lying island nations.
While the FCBCO assembly has been planned for several years, albeit delayed by one year because of COVID-19 travel restrictions, it has also been earmarked for Oceania's preparations for the Synod of Bishops for a Synodal Church – often called the Synod on Synodality.
During next week's assembly, a new FCBCO executive will be appointed, along with a new president for the federation.
Australia will host the next assembly, in 2027, with an Australian bishop to be named president of the federation to guide preparations for that assembly.
Follow the 2023 assembly at www.fcbco.org.
FULL STORY
Oceans, synodality among key themes for Oceania bishops (ACBC Media Blog)