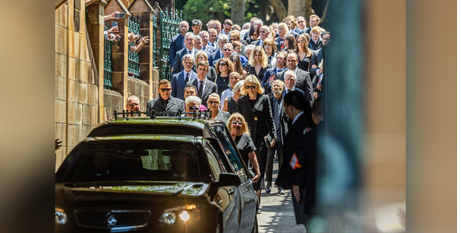 Cardinal George Pell's funeral in Sydney yesterday was at times solemn, reverent, defiant and sorrowful, mixed with wry Australian humour, and attended by mourners from all walks of life. Source: The Catholic Weekly.
Cardinal Pell remained a sign of contradiction until the very end. Protesters' shouts of "George Pell, go to Hell" were clearly audible inside St Mary's Cathedral at several points, and the congregation bursting into spontaneous applause and shouts of "hear, hear" during the homily and eulogies.
In his homily, Sydney Archbishop Anthony Fisher OP, the cardinal's successor as Archbishop of Sydney, described him as a "lion of the Church", a "giant of a man with a big vision" who proclaimed the Gospel "shamelessly, vehemently, courageously to the end".
"He had a big heart, too, strong enough to fight for the faith and endure persecution, but soft enough to care for priests, youth, the homeless, prisoners and imperfect Christians," Archbishop Fisher said.
Cardinal Pell's brother, David Pell, gave the principal eulogy, describing him as "a prince of the Church, a good and holy man, and a proud Australian".
Mr Pell told mourners about the toll "the relentless campaign to smear George's life" had taken on his family and spoke for a final time in his brother's defence, saying his "regularly reported lack of sympathy for victims is simply untrue".
The long service and sweltering Sydney summer heat did little to deter mourners and supporters of the Cardinal, who filled St Mary's to capacity, with around 2000 braving the heat in the Cathedral forecourt from as early as 7.30am to try to score a seat inside.
After the Pontifical Mass of Christian Burial, Cardinal Pell's remains were interred in the cathedral crypt alongside his predecessors.
FULL STORY
"A lion of the Church": Sydney farewells Cardinal George Pell (By Adam Wesselinoff, Debbie Cramsie and Marilyn Rodrigues, The Catholic Weekly)
RELATED COVERAGE
David Pell's eulogy for Cardinal Pell: A good and holy man, and a proud Australian (The Catholic Weekly)
Pell farewell and a moment of revelation (The Australian)
Tony Abbott and Archbishop Anthony Fisher lead tributes for a 'lionheart' George Pell (The Australian)
Pell a saint for our times, Abbott says (Sydney Morning Herald)