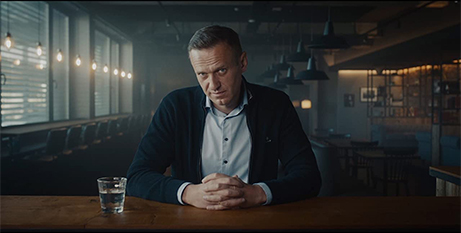 Nominated for Best Documentary in this year's Oscars, Navalny is a portrait of former Russian opposition leader Alexei Navalny and his quest to identify the men who tried to assassinate him Source: Jesuit Media.
Navalny was poisoned while travelling on a plane from Siberia to Moscow. The film serves as a summary of this event, his recovery in Germany, his return to Russia and subsequent imprisonment for charges Navalny says were fabricated to thwart his political career.
To uncover the perpetrators behind his poisoning, Navalny works with investigator Christo Grozev and his organisation, Bellingcat, which is an independent global organisation of researchers, investigators and citizen journalists that use open source and social media investigation to solve crimes around the world.
Navalny, Grozev and Maria Pevchikh, chief investigator with Navalny's anti-corruption organisation, draw up a list of probable agents used for the assassination attempt. They note the presence of some suspects in the Siberian town when Navalny was poisoned by a nerve agent.
Then there is the extraordinary expose when Navalny, posing as a Russian authority, elicits by phone the detailed story of the plot. Navalny obviously enjoys himself in front of the camera with this phone interview which leaves his associates more and more amazed.
Navalny presents an opportunity for an hour-and-a-half close-up on the man himself, speaking both in Russian and English – cheerful, witty, familiar with social media and able to employ it adeptly.
The film highlights Navalny's opposition to Russian President Vladimir Putin. In light of Putin's behaviour in 2022 with the invasion of Ukraine, and an excerpt from his press conference where he never mentions Navalny by name but only by references, the film is a strong critique of Putin, his supporters, his media support, and the oppression of freedoms.
Review by Fr Peter Malone MSC, Jesuit Media.
Navalny: Directed by Daniel Roher. 98 minutes. Rated M (Coarse language). Streaming now on SBS On Demand.
FULL REVIEW
Navalny (Jesuit Media via Australian Catholics)