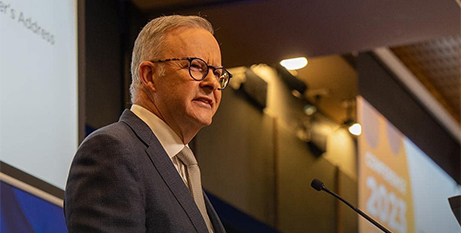 Prime Minister Anthony Albanese has taken aim at opposition to the Voice to Parliament, saying "misinformation" was blocking its progress. Source: The Australian.
Mr Albanese made the comments during a speech at the Chifley Research Centre Conference in Canberra on Sunday and said the Voice would be a "modest" change to the constitution.
"It's not a radical proposition but a sensible one," he said.
"A simple, vital and practical principle: that Aboriginal and Torres Strait Islander people have a say in the policies and decisions that affect their lives.
"Not just because, as I've said before, it is common courtesy to consult people when you're taking a decision that affects them. But because the practical outcomes will be better."
Mr Albanese went on to say some Australians were attempting to engage in a culture war around the referendum.
"That's an inevitable consequence of trying to achieve change. There are always those who want to create confusion and provoke division, to try and stall progress," he said.
The Voice to Parliament is a body that would be enshrined in the Constitution and would enable Indigenous people to provide advice to the parliament on policies and projects that impact their lives.
Each state and territory's first Minister or Premier signed a "Statement of Intent" to support the enshrinement of the Voice on Thursday.
The federal Liberal Party is yet to come to an official position on the matter.
FULL STORY
Prime Minister Anthony Albanese hits out at Voice opposition (By Holly Hales, NCA NewsWire via The Australian)
RELATED COVERAGE
Liberals and Greens weigh up their position on Indigenous Voice to Parliament (ABC News)
PM asks Australians to back Indigenous Voice to Parliament (The Age)