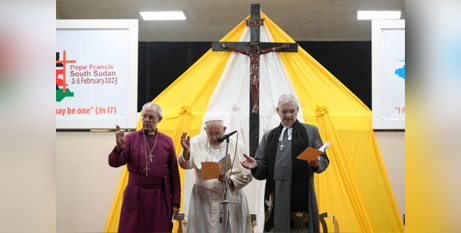 In one of his final events in South Sudan, Pope Francis led an ecumenical prayer service with other Christian leaders on Saturday, stressing the need to join forces in promoting peace and addressing the country's other crippling problems. Source: Crux.
Speaking to faithful from different Christian denominations, the Pope said: "From this beloved land, wracked by violence, many prayers have now been raised to heaven.
"Many different voices have united to form a single voice. Together, as God's holy people, we have prayed for this people and its suffering," he said.
Pope Francis's visit to Juba was the final leg in a two-stage journey that also took him to the Democratic Republic of Congo in a bid to comfort and encourage the two war-torn nations.
His stop in South Sudan was an ecumenical visit alongside the Archbishop of Canterbury, Justin Welby, and the Moderator of the Church of Scotland, Rev Iain Greenshields, both of whom joined him earlier on Saturday for a meeting with displaced people.
Together, the faith leaders led a prayer service for Catholic, Anglican, and Presbyterian Christians in Juba's John Garang's Mausoleum, named after a Sudanese politician who died in a helicopter crash in 2005, and who was active in the movement that led to the eventual foundation of South Sudan as an independent republic.
Pope Francis stressed the importance of prayer, saying that as Christians, "Prayer is the first and most important thing we are called to do in order to work for the good and to find the strength needed to persevere on our journey."
"Prayer gives us the strength to go forward, to overcome our fears, to glimpse, even in the darkness, the salvation that God is even now preparing. Moreover, prayer brings down God's salvation upon the people," he said.
FULL STORY
Pope in Africa hails Christian unity as force for peace, antidote to tribalism (By Elise Ann Allen, Crux)